Ring of Steel's Stunt Camp is one of three camps in the entire nation where kids can learn the art of professional stuntpeople! Stunt camp is for kids ages 8-17 to try their hands at loads of theatrical combat and stunt activities, including sword play (practiced daily), falling and rolling, high falls, mini trampoline, flying (wire work), throwing stars, whips, quarterstaff, special effects makeup, some circus arts, and more depending on staff availability. Campers also get to learn about fights in movies by watching movie selections and seeing live demonstrations.
Campers are divided into groups according to age. No one has to take part in any activity with which they feel comfortable, i.e. if a child is adverse to heights then they don't have to do high falls. Campers can either observe the activity, or we have other alternatives to engage them.
Safety is of utmost concern! Campers will learn safety basics first and have them repeated to them over and over again throughout the week. We will also provide eye protection and ear protection for activities which require it. Parents- please emphasize how important it is for your children to listen carefully to all instructions so that they don't endanger themselves or others so that we can all have a good time. Campers who fail to follow directions will not be allowed to participate in the current activity.
Location: Ringstar Studio, 3907 Varsity Dr, Ann Arbor MI 48108 (north off Ellsworth between State and Stone School)
Each session runs Monday through Friday, 9am-3:30pm. Drop-off begins at 8:45am and pickup lasts until 4pm.
Cost is $350 per regular session and $365 for the select camp. Several discounts are available (see below).  A deposit of $100 is due after you receive email confirming camp registration.  Payment may be made via check, Venmo, Cash.app or PayPal (electronic payments may include a small processing fee from the provider).
Refund Policy:  Your deposit is, less any transaction fees, fully refundable through April, 50% refundable through May. Once we reach June, deposits are only 50% refundable if we are able to fill the reserved camp spot.  We make every effort to fill a vacancy from our waitlist, but the shorter the notice, the less likely we will be successful.
What to Expect

Shoes: campers may go barefoot or wear socks. Campers wishing to wear shoes must bring a pair of clean, indoor-only athletic shoes.
Clothing: comfortable, temperature appropriate wear, neither too loose nor too tight.
Food: Campers are expected bring their own lunch, water bottle and any dietary-related snacks that may be necessary.
Equipment: We will provide all equipment. Campers wishing to bring relevant items with them, such as a personal practice bokken, may do so subject to instructor approval.
Payment: A $100 deposit is due at the time of registration to be mailed via check, or paid electronically via PayPal (includes a small processing fee). Please expect to make payment-in-full the first day of the camp. Total tuition, including deposit, is $350 ($365 select camp week) before applicable discounts. In-person payments may be made via credit card, check, or cash.
Coming and Going: Drop off begins at 8:45am. Please observe the chid entering the facility where staff is stationed and will check them in for the day.  This is to reduce crowding of families during drop-off.  Pick up is between 3:30-4:00 pm daily and requires a parent, legal guardian or designated care-taker to sign the child out.
COVID-19 Policies: The health and safety of our campers and staff is our highest priority. Because the situation is constantly evolving, we will follow whatever current CDC guidelines are in place at the time each camp takes place, meaning our policies may change between sessions, or even mid-session. Hand sanitizer will be freely available and masks will be permitted to be worn even if they are no longer required. We strongly encourage all attendees to be fully vaccinated before camp starts. Campers showing signs of illness must abstain from attending camp.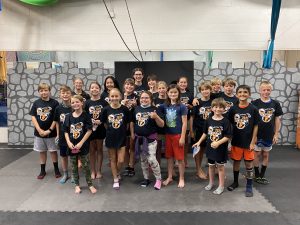 Available Discounts

Refer a Friend: Receive $10 off your tuition for each new camper family you refer! Referrals MUST note who referred them in their registration form in order for the discount to be applied.

Sibling Discount: For every two siblings who sign up for camp, receive $35 off total tuition. For instance, if four siblings register, they receive a total of $70 off their collective tuition.

Military Discounts: Children with one or more active military parents receive a $70 discount, with a maximum of one discount per family. Children with one or more reservist or veteran parents receive a $35 discount, with a maximum of one discount per family. Families with a deployed parent should contact us directly for a customized tuition plan.

Combining Discounts: If a family with four children has one active military parent and they refer two friends, they get a total discount of $150 ($70 active military, $70 sibling, $20 in referrals)